Welcome Truckers, Truck Enthusiasts and their respective friends and families!
Keep in mind, as you view following page- This is a older style scrolling page kept by request. Simply click on any picture to enlarge the view and then use back button.

Every single custom piece you see here would be custom specific with your truck in mind!

Have you got an idea? To inquire about reserving your own special order, simply call BUB direct: (913) 240-5965
Monday-Friday 11:00 AM-6:00pm **Central Time**
We're literally home to the First Authentic Original

Bad Bow Tie

Visor, on record!! The ideas all came about in 2004-2005 when Richie Acosta purchased his truck from Clint Moore of KC Peterbilt and Bub began fabricating Custom Truck Parts and Pieces ever since all of those initial conversations! Once Project 350 won all of those awards and set a new standard in the industry, Bub's pieces were all over trucks nationwide and abroad. Many of those initial discussions took place on site here at Weld Shop, LLC between the three of them.

Next, the white painted BBT is on Ben Byer's truck.

The next three samples shown here are of our Stainless Steel BBT.
Here is Mr. Landoll's truck looking good at MATS 2010. The rear visor was specially ordered and called our, **Stainless Steel Rear Bow Tie Visor.**
For More, Rear Visor pics, CLICK HERE


Wes Hillin sent these great photograph's of his truck.



Special Thanks, goes to Mr. Bob at Hillwick's!
---


...speaking of 359's here is Cody Ford's! This is a one-off visor- he asked Bub to make for him...
---
CHECK THESE "BBBT's" OUT!!

Because all of our visors are hand made, we can custom make them to your specifications!!!

This is another Special Order Visor… Thank you to Brian King who sent us these cool pic's of his black truck!!

Due to the center being dropped 1" longer than a BBT we've called it our,

***Bad Bad Bow Tie***
Above is a BBBT with an inch off the top outside corner. In order to accommodate Roy Pool's (Victory Lane Chrome Shop) cab lights!
Visit BBBT page by, clicking HERE
---

It was built a few years back for the

2007 MATS "Big Rig Build Off

!"
The next two trucks' feature our 32 F Visor!
Tim Lager's are showing our 32 F –Stainless Visor!
Randy Hall's yellow day cab is displaying a one-inch short 32F visor! Randy says, he has "plenty of room to see out and it doesn't vibrate."
CLICK HERE to see our 32F page!
---
It has one 7-way and 2 hydraulic lines.
Here is a 8" cab panel and Step Plate Cover Bub has done!

Shox boxes...
VISIT: Trunks & Deck Plates... PAGE
It was Jeff at 12GA Custom trucks in Canada who prompted Bub and Tanya to stick with being 100% handmade operation and not manufacturing our products.
Fender Brackets, I-Boxes, Light Bars and more..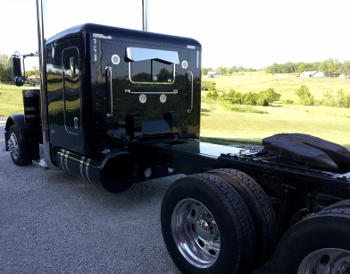 " Without craftsmanship, inspiration is a mere reed shaken in the wind." Johannes Brahms

---
These items shown are the original work of William "Bub" Poff, all hand fabricated and made at the Weld Shop in Leavenworth, KS. All products are solely the responsibility of the end user. Copyright©2008- Present: Weld Shop (913) 240-5965 Leavenworth, Kansas. This site displays the original metal fabrication of William "Bub Poff. bubtanya@builtbybub.com Patents Pending. All rights reserved.
To enhance your personal web experience while visiting our website: Use your Back Button after viewing thumbnail pictures, various pages and links :)